Göran Sveningzon is a visual artist, born 1964 in Gnosjö, Källeryd parish, Sweden.
He had his first gallery exhibition in his hometown 19 years old. The year after he was admitted to preparatory art school and moved to Gothenburg. He continued art studies at the university in 1986.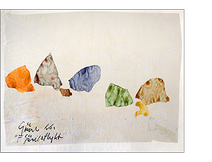 Butterfly escape
Watercolour, 1988
His interest towards the abstract and informal art grew increasingly. Even his employment in the graphic industry from the mid 1990's influenced him with print and typographic elements.
In this mix of he developed an imprint-like technique. It became a visionary approach for several years, a matter of creating intuitively, in a sense of "suddeness".
When he ended his employment as graphic artist in 2012, it gained new inspiration in his independent painting. Combined with resumed university studies he reformulated his early abstract orientation, showed with a separate exhibition in 2015. With the continued studies he also received a Bachelor of Arts in 2020.
The theoretical knowledge has served as a significant source and influence to his artistry. Regardless, his basic attitude to his painting as a personally driven, intuitive poetry has never changed. This became particularly evident through the exhibition "Lyrical Fields" where he presented his last five years of work on this theme.