Göran Sveningzon is a visual artist, born 1964 in Gnosjö, Källeryd parish, Sweden.
His early visual interest with an unbounded mix of cartoon, fantasy and saga led to a initial gallery exhibition in his hometown at the age of 19. The year later he moved to Gothenburg for two years of preparatory art studies. He continued a theoretical orientation at the University of Gothenburg in 1986.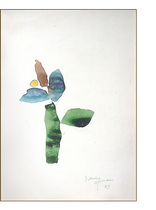 Aquaflower
Watercolour, 1987
During the late 80's, his interest for informal, intuitive abstractions grew and got expressed through several exhibitions at cafes and small galleries. His work on graphic design since the mid 90's provided with elements from printmaking and typography. In this mix of influences he developed a technique of staining, imprinted fields, partly integrated with the primed background.
Despite commuting in expressions and techniques over the years, he has continued to work with the imagery as an independent, visual poetry. A vision that has remained through exhibitions as well as public assignments.